The Stitched Style Academy Awards
By Steven Cruz | instagram.com/scruzloose
Last night the 88th Academy Awards brought together celebrities from far and wide, in a grandiose battle for Oscars, bragging rights, and the all-important "best-dressed" nods. The Oscars typically elicit thoughts of beautiful women in wonderfully adorned dresses; but would we see anything but copy-pasted penguin suits from the men? Here are the best of the men (and one woman) in our First Annual Stitched Style Academy Awards. Live from STITCHED at The Cosmopolitan of Las Vegas, Nevada.
Craziest Trend in a Clothing Feature Film: Kevin Hart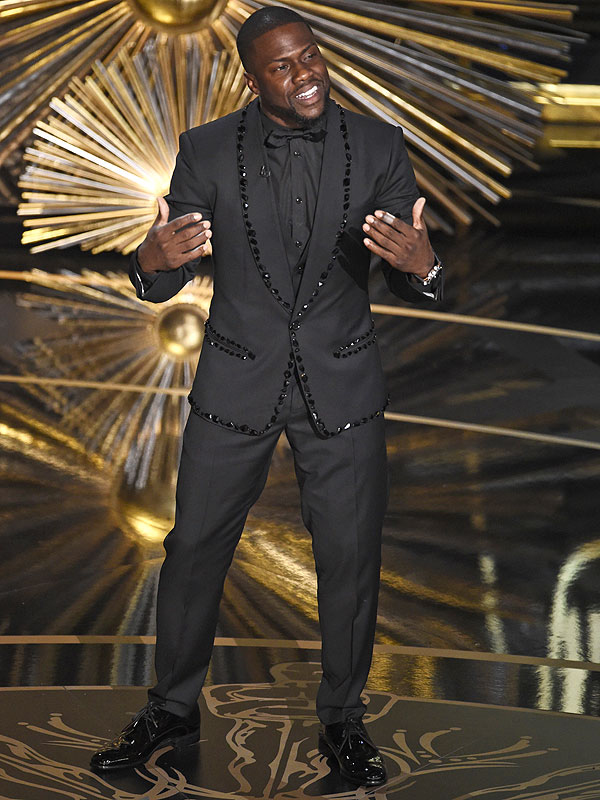 Starting out of the gates is our friend Kevin Hart with an all blacked out look. Patent leather shoes make this quite dressy, but the rhinestone studded jacket brings it right to the edge. You're rocking it, Kevin!
Most Dapper look in an Action Film: Sylvester Stallone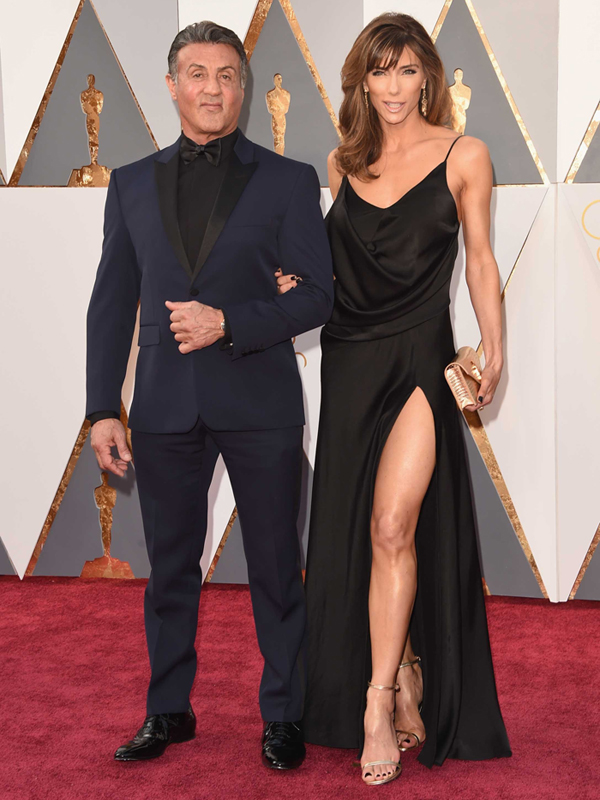 Sylvester Stallone. Coming in hot with a navy blue tux with a fit so good, his tailor should get an Emmy. Sharp peak lapels give this jacket a dressy look that can't be beat. At the end of the day, the most enduring styles are landed with perfect precision.
Most Peculiar Outfit in a Short Film: Jared Leto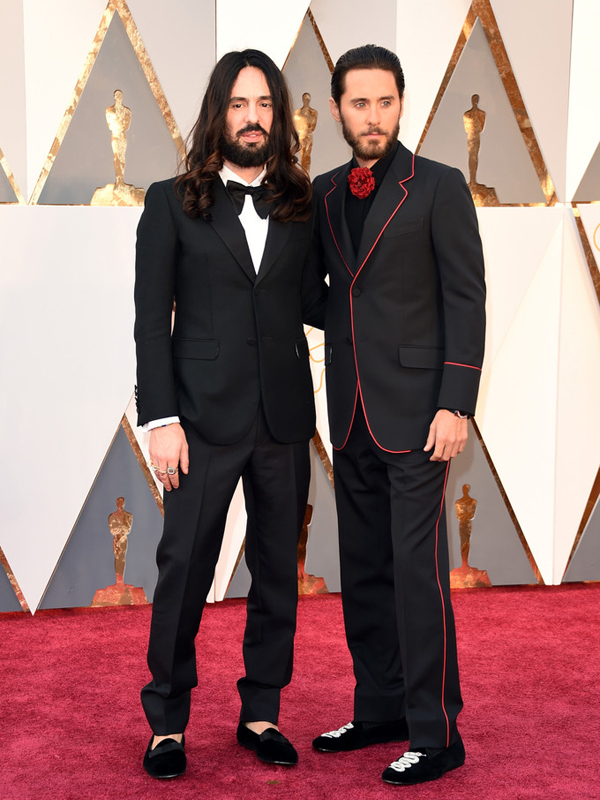 Now we've seen some interesting stuff from Jared Leto in the past, but maybe his role as the Joker is starting to show up more in other places. Jared is wearing a tailored Gucci suit with vibrant pink piping in combination with a carnation bow tie and velvet loafers with, of all things, snakes. Do you love it? Do you hate it? All that matters is that you're looking at it. Along with Leto in the all-Gucci garb is Gucci creative director Alessandro Michele, and if he gives Leto his blessing, then so shall we.
Snazziest in a Presenting Role: Chris Rock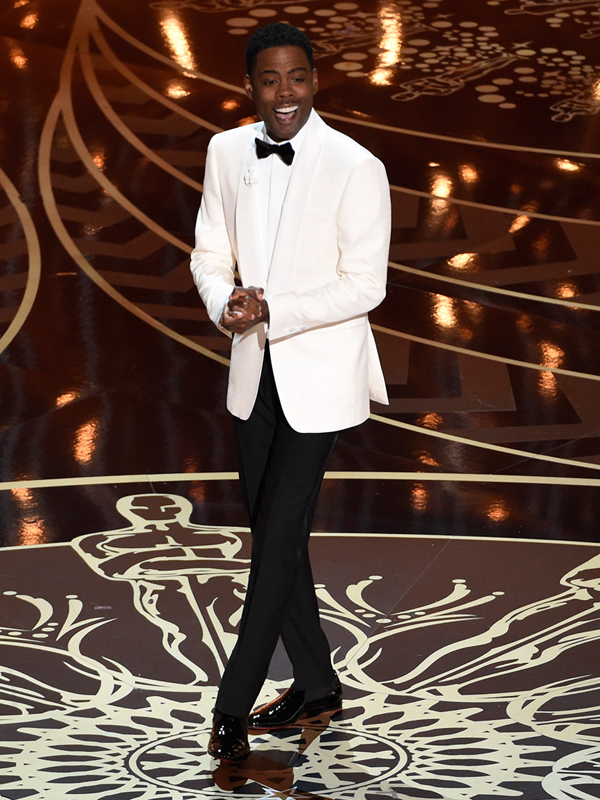 Presenting the Oscars this year is none other than funnyman Chris Rock, and he pulled all the stops when it came to his fashion this year. Wearing what might be the only white dinner jacket on the floor made it all the more special on his shoulders and in front of all the lights. Going with the classic slim black bowtie made this our most snazzy look of the night.
Best Costume Design: Sandy Powell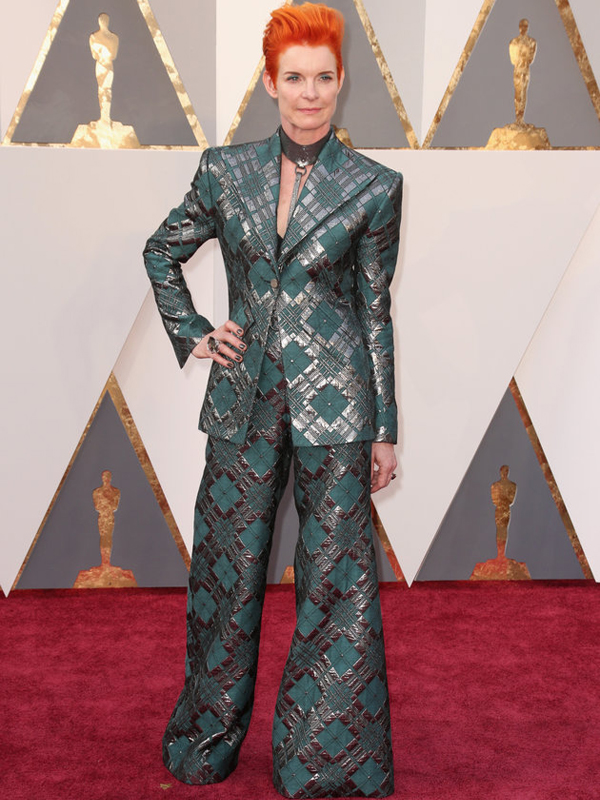 Do you know who Sandy Powell is? Well you should now. Sandy has won three (count em, 3) Oscars for costume design and has been nominated a whopping TWELVE times. This has got to be the most fantastic women's outfit on the red carpet, and guess what, she made it herself! In a true Bowie-esque style, she pulls off the orange hair with fierce looks.
Best Athlete Actor… in a blue tuxedo: Michael Strahan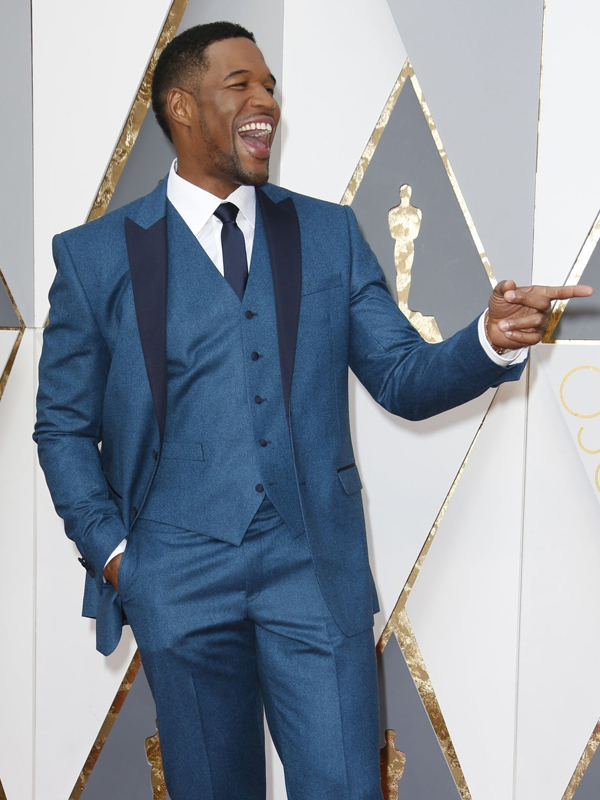 The Best Actor Award, the award everyone awaits with bated breath, goes to none other than … athlete-turned-tv host, Michael Strahan! Wearing felted wool at this time of year is a risk, and Strahan even made some people's "worst dressed" lists, but that cerulean had to play in the sun. Paring with a tie that blends perfectly with the peaks of his lapels and a glint of gold on his wrist, Michael was a hit with this ballad of blue.